Once you've nailed down your wedding cake flavours, it's time to decide how to dress up your dessert. While naked wedding cakes and all-white tiers never go out of fashion, you may want to incorporate one or two of these 2019 wedding cake trends to give yours a modern twist. From confections inspired by Harry and Meghan's to copper-covered cakes, these are the styles that should be on your radar.
Here is your 2019 wedding cake trends report.
Modern Royal
You probably saw the glorious wedding cake that Meghan and Harry served at their reception, and if you're anything like us, you were absolutely in love with the style. We anticipate that, like the Duke and Duchess of Sussex, couples will stray from tradition in 2019 and choose an alternative design, like their deconstructed cake. Instead of layers stacked on top of one another, the couple chose a to display three look-alike cakes on individual cake stands. The finished look is a dramatic dessert display that's just as pretty as your wedding decor.
Tall Tiers
Short stacks are a thing of the past! If you want to update the look of your wedding cake, opt for elongated tiers. You can do a single layer, super tall cake or make one of the tiers on your multi-level creation a bit taller than the others. This works with just about every cake style, but really packs a punch with ombre and naked wedding cake designs. P.S. One of Harry and Meghan's wedding cakes was a single tall tier, so embracing this trend will give your confection a bit of royal flair, too.
Textured Buttercream
If you love buttercream icing, then this is the 2019 wedding cake trend for you. Designers are using their palette knife to create texture like on this elegant cake by WILD featuring a vanilla buttercream icing coloured with beetroot and charcoal. We think this look really lends itself to a rustic luxe wedding style – a 2019 wedding trend we're forecasting.
Copper
Not all that glitters is gold! Copper really is the metallic of the moment, so try working some into your design. Pro tip: if you don't like the look of bold, shimmering tiers, you can always use a copper-toned drip and icing designs or display it on a copper tray or cake stand to incorporate this 2019 wedding cake trend.
Elevated Naked Cakes
Naked wedding cakes have been trendy for a while, but nowadays bakers are getting a bit more adventurous with the style by adding drips, interesting toppers, multiple cake flavours and different colours to the mix. By going this route, you'll still get the look you know and love but with a dash more creativity.
Geometric Designs
The geometric trend is super popular ATM and it doesn't look like it's going out of style anytime soon. You can use it to inspire the shape of your tiers - triangles and hexagons are a bit more interesting than squares and circles - or ask your baker to etch geometric designs on your cake with icing, fondant or food colouring.
Vertical Ruffles
This style isn't anything new, but if you want to give it a bit of an upgrade, flip your rows of ruffles so that they run vertically. We suggest pairing one tier of vertical ruffles with a simple, sleek second and third tier so that the design really stands out. It also looks amazing as a single, tall tier, if you're looking to incorporate multiple 2019 wedding cake trends into your confection.
Botanical Cakes
If you plan on decking out your wedding venue with house plants and greenery, why not work some botanical wonders into your wedding cake design, as well? Ask your baker to etch some of your favourites onto your wedding cake with icing or food colouring, or, if you really want to go the extra mile, top it with real leaves.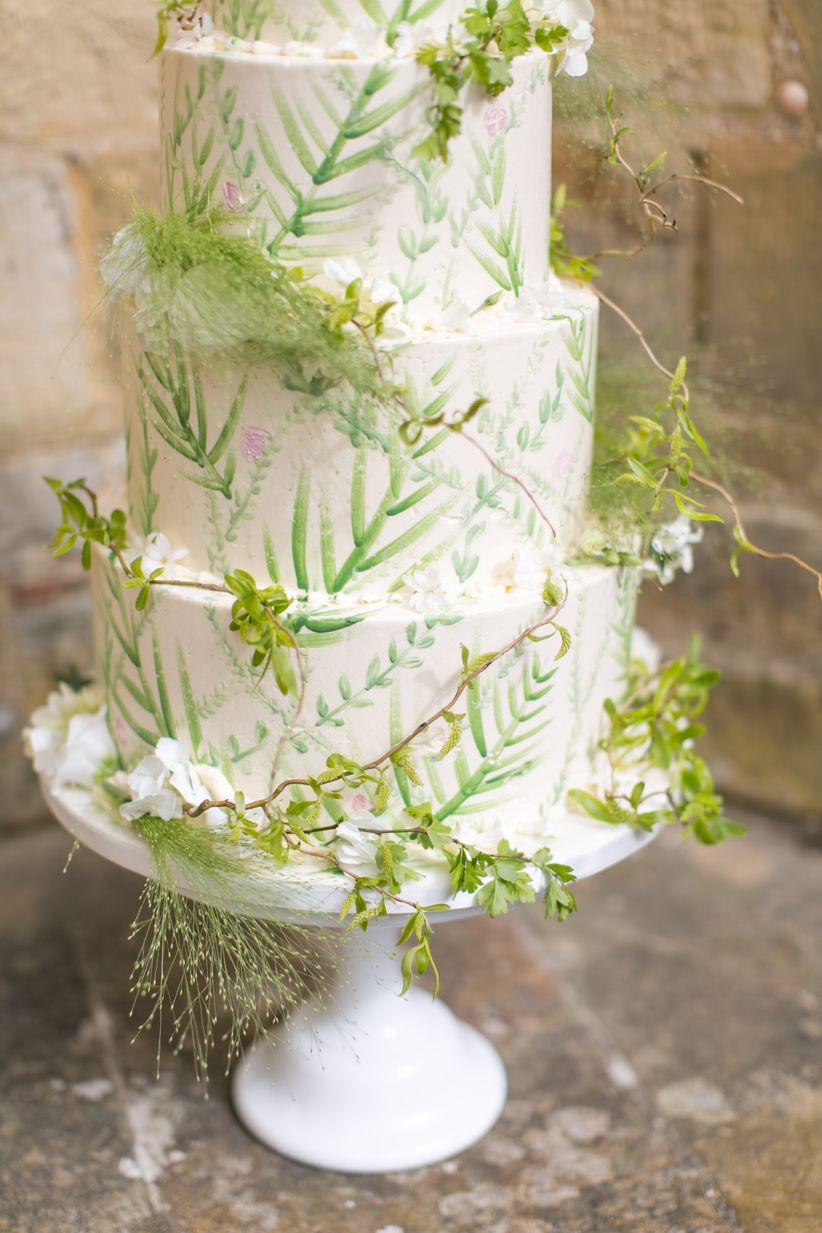 Find wedding cakes and specialized bakeries on WeddingWire »