Reviews for Victoria Green Photography
Badges
3 User photos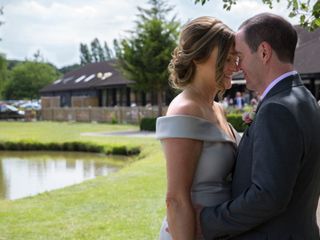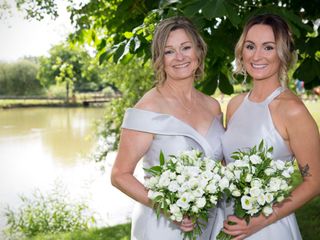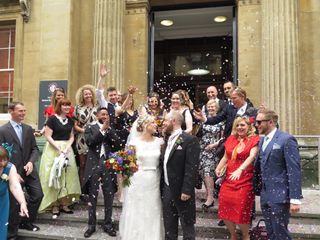 Maria Hassell · Married on 05 of October of 2019

Amazing Wedding Photographer

Victoria was introduced to me by a colleague and she was absolutely amazing. She went above and beyond to ensure she captured everything we wanted, and had some great ideas for photo opportunities. She was also incredibly helpful the whole day, always making sure my dress wasn't getting stepped on whenever she was with me! Nothing was too much for Victoria, she was so happy to accommodate guests requests, which I am so grateful for. All in all, our day wouldn't have been the same without her. We cannot thank you enough!

Sent on 28/10/2019

Kathleen Hopkins · Married on 29 of August of 2019

Exceptional wedding photographer!

My husband and I are so happy that we chose Vicky to be our wedding photographer! She was exceptional from start to finish. Whilst planning for the event she was kind, helpful and supportive, suggesting a pre-meet at the venue and offering hints and tips on how to get the most out of it, being flexible to changing circumstances, and always being on hand for questions or concerns. On the day itself she was amazing - totally calm and professional, capturing every moment, going out of her way to get the best shots (even running up the side of a hill when she'd assembled a group shot to get the best view), and using her vast experience of weddings to help in ways that were completely beyond her photography remit - e.g., suggesting that we move my dress away from the place where the make-up artist was spraying hair-spray, offering to take the groomsmen's buttonholes to them when there was no one else around to help. The finished pictures are incredible! Not only are there countless fantastic shots when you look at them individually, but when you look at them in sequence they tell the most beautiful story of the day which makes us feel like we're reliving it every time we look at them. She really is an exceptional photographer and I can't recommend her highly enough.


Sent on 06/10/2019

Lynette Symons · Married on 03 of August of 2019

Just absolutely brilliant

I am so pleased I decided to work with Victoria. What an enthusiastic, organised and professional photographer - exactly what you need when there is so much to plan! Within days of my enquiry Victoria contacted me to gain some initial ideas.
We then met one morning about 6 weeks before the wedding and went through all the details and walked around the various venues. While we walked and talked Victoria provided lots of ideas and took copious notes as to the photos I was looking for. All this planning meant that the day went like clockwork. Our photos are exactly what I was looking for - natural, relaxed and joyful. We love them. Thank you so much for being part of our special day. I would highly recommend!

Sent on 14/09/2019

Victoria Green Photography's reply:

Thank you for such an amazing review Lynette - it was a genuine pleasure to work with you and Mark. And a first for me photographing personalised shoes with cats on! So pleased you love your pictures :0)

Brenda Maleco · Married on 27 of July of 2019

A Wonderful Experience

Victoria did such a wonderful job of capturing our wedding. The photos are fantastic quality and look great! She took the time to meet us and view the locations before the day. On the day she was professional and relaxed which made it all very easy. Thank you!

Sent on 02/10/2019

Kevin Wilson · Married on 06 of July of 2019

Knows her stuff.

On first contact with Victoria she responded very quickly to our email and then we had a telephone conversation a few days later and we spoke about what we would like on the day and I explained it was a 1920s celebration she was quite happy to do colour and black & white. Victoria is very easy to deal with on the day she turn up earlier than we arrange and got to work straight away was very organised and took the photos that we ask her to and a lot of the time she was in the background doing her job like the professional she is.



Sent on 22/07/2019

Victoria Green Photography's reply:

Thanks Kevin -really appreciate your kind words. It was my first 1920s wedding! I really enjoyed photographing all the unique elements of your special day. I wish you and Carol every happiness.

Sue Boulter · Married on 05 of July of 2019

Passionate and enthusiastic, fabulous photos

Victoria, is passionate and enthusiastic and highly professional. She made sure she got to know us pre-wedding and we met at the venue to agree format of the day and photo preferences. Our more formal shots have a relaxed feel about them and Victoria was totally unobtrusive throughout the day taking some fabulous candid shots. We love the collection and are absolutely delighted with her approach and the photos provided. Highly recommend.

Sent on 30/07/2019

Victoria Green Photography's reply:

Thank you so much, Sue, for your lovely feedback -it was an absolute pleasure photographing your special day. Everywhere I looked, people were laughing their heads off -it was very fun to shoot.

Wishing you and Darren every happiness together.

Gemma Pope · Married on 08 of June of 2019

Amazing day with Victoria added to in spades

Victoria covered our wedding in June and she was amazing from the pre-meeting to the communication throughout the planning to the photos on the day. She listened to the type of photos we were looking for and her bubbly personality really shined through.

We can not recommend Victoria enough even the groom said he loved her when she was running across the field in the rain to capture a photo of us with a rainbow. She made us feel really relaxed in front of the camera especially as we are not a couple who take a lot of photos of ourselves. She is a real asset to your special day thank you again for being part of our day. Gemma and Gary

Sent on 07/07/2019

Victoria Green Photography's reply:

Thank you so much for your lovely review - it was so much fun photographing your special day. I am beyond delighted we captured the rainbow!!! May that be a symbol of your new life together. Very best wishes to you both - it was a pleasure getting to know you.

Oksana Denyer · Married on 12 of March of 2019

Mrs Oksana Denyer

Victoria is amazing. I chose her as a photographer and loved her after first speaking and I wasn't disappointed. Victoria is pleasant, friendly, fun, warm, helpful, and like one of the family. The email and call correspondence was also incredibly prompt and friendly! Once again, thank you for your talent and hard work. All our best.

Sent on 24/03/2019

Victoria Green Photography's reply:

Thank you for your very kind words Oksana - thank you for making me feel like part of the family! I am so pleased we got outside with our umbrellas. Lots of love to you both. Best wishes, Victoria

Patrick Roberts · Married on 07 of September of 2018

Great photos

We chose Victoria for her bubbly, friendly enthusiasm and the results we had seen on her web site. We wanted a more informal and natural approach which could make the most of the beautiful settings we had selected. Victoria was wonderful throughout. We talked on the phone, we met at the venue to "walk through" the service and reception then we provided a list of all the key people we wanted to be photographed. We were blessed with a picture-perfect day, a beautiful bride and a fantastic venue and church. The collection of photographs is wonderful, everything we wanted and more. Our families all have lovely photos for their memories and we are now spoilt for choice in which ones we display. Victoria, thank you so very much, Sandy & Pat

Sent on 25/09/2018

Victoria Green Photography's reply:

It was a privilege to be a part of such a special day Pat - thank you so much for your lovely feedback. I am so chuffed you love your pictures and your family have all those special memories. I hope you and Sandy have a very happy married life together and can now find some time to relax in the garden!

Alison Brown · Married on 21 of July of 2018

Best Photographer Ever!

Victoria captured such beautiful shots I will treasure forever. Victoria made me feel instantly at ease. She was unobtrusive, not forcing anything but going with the flow, working with patience and great professionalism. Thank you for giving me such special memories, particularly of my baby daughter, I will treasure them always.

Sent on 11/10/2018

Victoria Green Photography's reply:

Thank you, Alison, for your lovely review -delighted you love your pictures. Thank you also to your family for being so inviting, warm and fun. Best part of my job is working with lovely people capturing lovely magical moments.